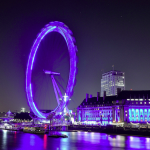 Mr Johnson announces his plans for London to produce 25% of its own power from local sources by 2025
Boris Johnson outlines plans for the London mayor's office to become the UK's latest independent electricity supplier, officially launching next year. London are the first public authority to receive a electricity licence from regulator Ofgem.
The scheme, likely to be named Energy for London will initially purchase electricity from small generators owned by public bodies and London boroughs, then plan to sell onto the Metropolitan police, Transport for London etc. However its first call concern is to appoint an operato ...
Read more ...