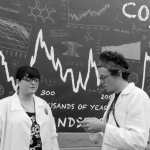 As clever as solar energy is, it is still not as consistent as we would like it to be. Of course when the sun isn't shinning they do still generate electricity however at a vastly reduced amount.
Nonetheless a groundbreaking breakthrough has recently been discovered through the combination of solar and hydrogen power. The concept dubbed 'Hydricity' derived from the combination of hydrogen and electricity could potentially revolutionise the renewable energy sector which has a fundamental challenge of storing the generated renewable electricity on a commercial scale.
Fundamentally there are two aspects in generating electricity from the sun. Photovoltaic cells (also known ...
Read more ...