Electric Radiators Vs Gas Central Heating!
My Electric Radiators are designed to be a revolutionary new alternative to traditional heating systems found in homes across the UK. So how exactly do our electric radiators compare to gas central heating? Based on the most frequently asked questions we receive about electric radiators and gas central heating, this table highlights the differences between the two: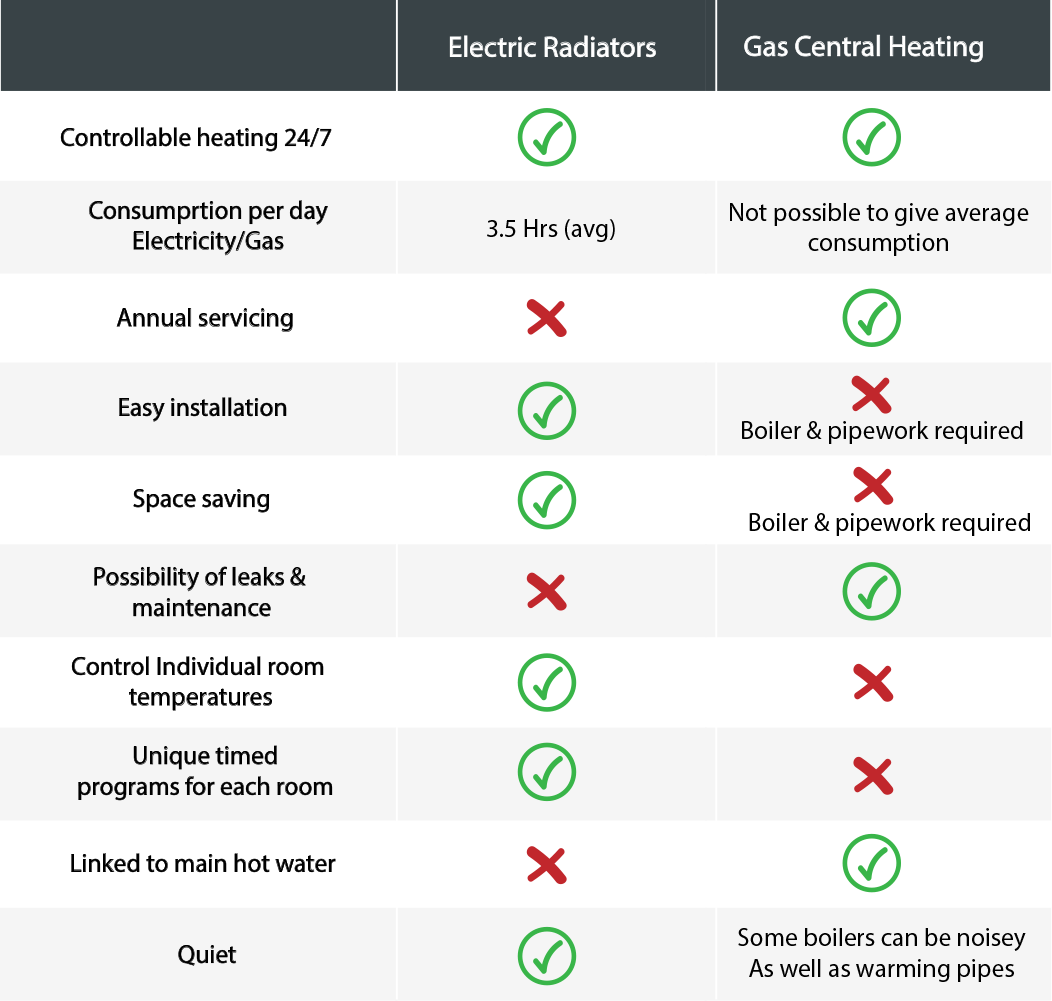 Both electric radiators and gas central heating boast a superb quality of heating, however there are some crucial differences. Most notably, cost. Installing or extending gas central heating will cost considerably more than electric radiators, which are often installed by the property owner. Gas installations demand a qualified plumber incurring costly fees, time consuming and disruption to your interiors.
A traditional gas central heating system demands ongoing annual expense together with other costly drawbacks:
• Annual boiler servicing and upkeep
• Annual radiator draining and replenishment
• Inefficiency of boiler
• Heat loss though pipes prior to reaching radiators
• Extending a gas system requires lifting of floorboards to access pipes causing inconvenience and mess
• Boiler capacity - may not be powerful enough to operate with further radiators
Our electric radiators do not require compulsory annual servicing. On the strength of this we provide a three year warranty on all electric components and a 10 year warranty on the body. Of course, we do however expect you to enjoy many more years than this.
Each of our electric radiators has the benefit of:
• Intelligent control system - Only utilises energy when needed, operating with a precision digital thermostat
• Programmable - Features a highly developed 24 hour, 7 day a week time and temperature programming
• Set rooms at individual times and temperatures, tailoring heating around your lifestyle
• Operates independently from a hot water system
• Use alongside other existing heating systems
• Plugs into an everyday plug socket, eliminating pipes and high plumbing costs
Electric Radiators Vs Oil Central Heating
In England 2.8 million (mostly rural households) are not connected to mains gas. Oil central heating systems have historically been favoured, however with the continuing fluctuation of running costs particularly in 2010 which saw a whopping 40% increase, this approach has subsequently declined.
Our radiators operate via electricity providing an ideal substitute. Embracing a wafer thin profile, good design and thermostatic controls creating a perfect addition to any interior. Our radiators benefit from consuming energy only when required avoiding any unnecessary wasted energy. In addition we have conducted a real world study which found our SlimPro electric radiators had running costs that were equal to or less than gas central heating.
Traditional wet central heating whether that be generated via oil or gas demands pipework to bridge the boiler with radiators. The cost of extending this system alone can be enough to make your eyes water without the added inconvenience of lifting floorboards, dust, mess and general chaos.
When considering adding to your wet central heating remember to take into account the pressure output of your current boiler as it may not posses the capacity to operate correctly. Our radiators benefit from DIY
installation within minutes following a few easy steps.
• Screw the bracket to the wall
• Mount your radiators onto the bracket
• Plug in, switch on and enjoy warmth in minutes
All of our radiators are supplied with everything needed for complete installation including mounting brackets and screw pack and remote control.
Make note: Since electric radiators are powered via electricity there are no emissions, unlike the majority of boilers. Furthermore there is the capacity to power via clean energy such as solar, wind or from a renewable energy supplier.
The real cost of gas heating
With the ever increasing fluctuation of gas prices most due to the UK's furthering dependancy from overseas imports. Things are moving on. On top of that bear in mind the transportation costs paired with the emissions expelled via a boiler, adding a sizeable chunk to your carbon footprint.
Assuming your seeking an energy efficient heating solution combined with low installation cost, sleek design and zero maintenance then our electric radiators are certainly for you.
How do I know which size electric radiators to choose?
Need help choosing the correct sized radiators for each of your rooms? Then make sure to check out our radiator calculator or call 01423619303 whereby one of our friendly heating experts will be happy to help.