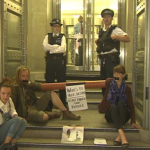 Anti-fracking campaigners have super glued themselves to the entrance way of the Department of Environment. Food and Rural Affairs (DEFRA). Whilst a similar campaign whereby two entrances were blockaded by protesters had been carried out at the offices of iGas which is the UK's biggest shale gas company.
Campaigners from Reclaim the Power based in Blackpool claim that the protest is in relation to the 63 redaction's in a Government report released a couple of weeks ago on the potential impact that shale gas exploration might have on the rural communities.
Three activists superglued themselves to ...
Read more ...